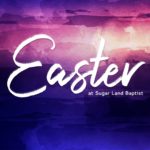 Palm Sunday, April 5
9:45am – Palm Sunday Worship Service Livestream – Children are encouraged to make a palm branch at home or take one from their tree to wave during worship. Directions can be found on the Sugar Land Kids Facebook page.
Wednesday, April 8
No evening livestream activities.
Maundy Thursday, April 9
Family Meal and Communion – We encourage you to eat supper beginning at 6pm. If you are alone, you may try to connect with another church member via Zoom, Face Time, or some other video chat service. Our Communion Service will begin at 6:45pm, broadcast from the homes of Pastors Taylor Sandlin and Clint Kimmel. To prepare for this service, we encourage you to prepare your own communion elements by making sure you have the elements for the bread and the cup in your pantry. Any type of bread, pita, or cracker can be used. While Jesus used a cup of wine, our church uses grape juice when we gather together. Both are common in the larger Christian Community. If you do not have the normal elements, a fruit juice or water can be used as an alternative. The ordinance of the Lord's Supper is a powerful symbol and should be approached with reverence, so we encourage you to refrain from using food that may cheapen the moment such as soft drinks, junk food, etc.
Good Friday, April 10
12Noon – Good Friday Worship Service Livestream – Service of preaching, prayer, and music to remember the cross, acknowledge the suffering of Christ, and contemplate how Jesus joins with us in our suffering.
Easter Sunday, April 12
9:45am – Easter Sunday Worship Service Livestream – A service of celebration and hope on this Resurrection Sunday