Sunday: Palm Sunday
"Hosanna! Blessed is he who comes in the name of the Lord!" Mark 11:9
Scripture Reading: Mark 11:1-11 and Luke 19:28-44
Kids add to their Holy Week Calendar: construction paper palm leaves
Song: "Hosanna!" by Hillsong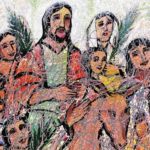 Art: "Moments with Christ" by Manuel Baldemor. Information about Baldemor's art can be found at https://philippinecenterny.com/manuel-d-baldemor-coming-soon/)
Prayer: God, as we come to Holy Week, may we pay attention to your journey. We feel so many of our own burdens, but may we see that you faced persecution and death in the name of love as you rode into Jerusalem on Palm Sunday. May we be like those who welcome you. May we be like those who made a path for your revolution of love to make its way into town. May we be like those who cried out to you for salvation, shouting Hosanna. Hosanna, Hosanna. Hear our Prayers. Amen.
Simple Prayer: God who came into our world to share your love, we need you every day. Thank you for your love, and help us to always remember to sing and shout out your good news! In Jesus's name we pray, Amen.
Monday: Jesus Clears the Temple
"My house shall be called a house of prayer for all nations." Mark 11:17/Isaiah 56:7
Scripture Reading: Mark 11:12-17
Kids add to their Holy Week Calendar: construction paper table cutout with pennies taped on top
Song: "Daughters of Zion" by The Porter's Gate (featuring Urban Doxology, Liz Vice, and Latifah Alattas)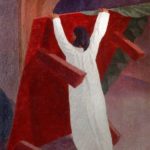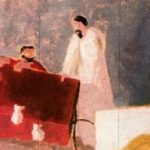 Art: This link tells you about the artist (Stanley Spencer). Spencer is known for two moneychanger paintings.
https://artuk.org/discover/artworks/christ-overturning-the-money-changers-tables-27344
Prayer: God Who Fights for Justice and Peace, You call us to be light in our dark world, to shine like a city on a hill. For all of the ways our witness has fallen short and our light has flickered and dimmed, we confess and ask for your forgiveness. We are more aware these days that our world is full to the brim of injustice, evil, and suffering. You teach us to be aware of your presence, to speak the truth in love, to welcome and include those unlike us, and to live humble lives in service to our neighbors. For all the ways we have ignored You, for the times our tongues have spouted hate, for the time our actions have excluded others, and for when we have turned inwardly ignoring our neighbors, we confess and ask for your forgiveness. Give us discontentment and frustration for what is not right in this world and what is not right within our own hearts. Make us brave, imparting to us the boldness and courage to stand with you for justice and peace, to work tirelessly with you to bring healing to our broken world no matter what the cost to our comfortable lives. We ask this in the power of your Son Jesus's name, Amen.
Simple Prayer: God, Thank you for your example of justice. There are so many things in our world that are not fair or right, and we are grateful that you love and value each child of God. Teach us to speak truth, to be radically kind, and to listen to the thoughts of others with our whole hearts. In Jesus's Name, Amen.
Tuesday: Teaching at the Temple
Your word is a lamp to my feet and a light for my path." Psalm 119:105
Scripture Reading: Luke 19:47-48
Kids add to their Holy Week Calendar: scrolls made out of paper and two sticks
Song: "Teach Us Your Ways" by the Porters Gate (feat. Leslie Jordan)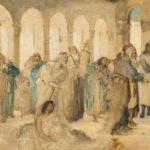 Art: From Jewish artist Maurycy Gottlieb
https://www.invaluable.com/auction-lot/maurycy-gottlieb-biblical-scene-jesus-teaching-36-c-5bf4e2fa6d
Prayer: Dear Lord, who teaches us still today, give us ears to hear. Let us hang on Your Words in Scripture as the crowds did to the voice of the Savior in the Temple. May your Spirit continue to guide us and give us the words to say when we have the opportunity to share you truth with all we meet. Teach us to recognize the ways of your kingdom that we might participate as faithful and devout residents in the space between a broken world and the coming kingdom of God. In Jesus's Name, Amen.
Simple Prayer: Dear God, As our parents teach us, help us to learn you are the best teacher. Let us remember the stories from Your book, the Bible, and learn the way you want us to live. In Jesus's name, Amen.
Wednesday Praying and Remaining Watchful
"Therefore I tell you, whatever you ask for in prayer, believe that you have received it, and it will be yours." Mark 11:24
Scripture Reading: Mark 11: 20-26, 13:32-37 and Luke 21:34-36
Kids add to their Holy Week Calendar: trace child's hands to represent praying hands
Song: "Not in a Hurry" by Will Reagan & United Pursuit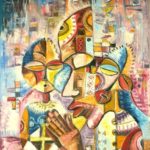 Art: By Angu Walters (African painting, from Cameroon)
https://www.artcameroon.com/prayer/
Prayer: Mighty God, We confess we don't always understand how prayer works. Faith and doubt coexist within us. We come with so many questions, and we find comfort in your faithfulness. We find comfort in the way you tell us to cry out to you. Father, help us to be faithful in prayer. Help us to watch for the ways you are at work in our world. Help us to forgive others, as you instructed us to. We draw close to you, wanting to see the world the way you do. Teach us, we pray. In Jesus's Name, Amen.
Simple Prayer: Mighty God, Help us to be faithful to look for the ways You work in our world. We're on the lookout, and we celebrate your good gifts. Help us to see when our hearts are full of sin and when we need to forgive too. Help us to put our trust in your love for us. In Jesus's Name, Amen.
Thursday Communion, Garden of Gethsemane, Judas's Betrayal
"Father, if you are willing, take this cup from me, yet not my will, but yours be done." Luke 22:42
Scripture Reading: Mark 14:17-26, 32-35, 43-50 and Luke 22:14-23, 39-53
Kids add to their Holy Week Calendar: saltine cracker and construction paper cutout of goblet; sack of coins
Song: "Remembrance" by Hillsong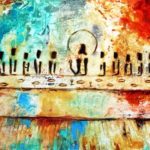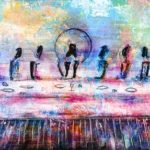 Art: Last Supper by Ivan Guaderrama (Guaderrama does these in multiple color patterns).
https://www.ivanguaderramaonlinestore.com/products/last-supper
https://pixels.com/featured/1-the-last-supper-ivan-guaderrama.html
Prayer: God Who is Close to the Broken-hearted, Today we remember one of your last moments with your disciples. Gathered around the table, you sat with them — eating good food, laughing, joking, talking, smiling, and relishing the beauty of close community and friendship. This Holy Week has been different and difficult for us. We are isolated and feeling the toil of loneliness, uncertainty, and anxiety. We miss the closeness of our communities – our church, our friends, our schools, our work colleagues. And yet, we are reminded of your intentional words to your friends on this night: "This bread is my body, broken for you. This cup is my blood, shed for you." You are the bread of Heaven and the cup of salvation, broken and poured out for us. Your presence is with us, like you were with the disciples that night, speaking truth into our insecurities, fears, and despair. You are with us at our tables scattered across our city. So, today, we pause to give thanks to you. To lift up our glasses and say, "Cheers!" – to the One who will never leave or forsake us, to Jesus Christ, our Lord.
Amen.
Simple Prayer: God, Our hearts are full as we hear these stories. We want to be like your disciples when they sit at the table with you and listen to you tell about sharing God's love for every one. We want to do better than your disciples when they fall asleep and leave you praying alone in the garden. We want to never betray your love like Judas did. On this day, we ask that you show us what it means to follow you, even on hard days.
In Jesus's Name, Amen.
Friday: The Cross
"Father, forgive them, for they do not know what they are doing." Luke 23:34
Scripture Reading: Mark 15:16-39 and Luke 23:26-49
Kids add to their Holy Week Calendar: simple cross, made from sticks
Song: "Power of the Cross" by Shane & Shane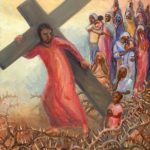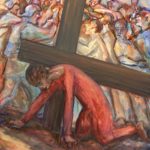 Art: Painting by Gwyneth Leech https://www.gwynethleech.com/other-paintings/commissions-2005-and-1990s
Prayer: Oh God who shares in our sufferings, today we remember the mystery of the cross; the place where heaven and earth met, where judgment and condemnation of sin gives birth to grace and mercy. On that beautiful scandalous night, we remember where you God, through your Only Son, paid our price, took our place, atoned for our wrong. May we carry this ultimate sacrifice with us this day and every day, that we might also carry the joyful resurrection and grace your death made available to all. Thank you for the cross. Thank you for the price you paid. Thank you for the blood of Jesus that purifies all sin. In Jesus Name, Amen.
Simple Prayer: Dear God, thank you for sending Jesus to die on the cross for our sins. We are sorry for the wrong things we have done. Help us remember how much you love us. In Jesus Name, Amen.
Saturday: Laid in the Tomb
"So Joseph bought some linen cloth, took down the body, wrapped it in the linen, and placed it in a tomb cut out of rock. Then he rolled a stone against the entrance of the tomb." Mark 15:46
Scripture Reading: Mark 15:42-47 and Luke 23:50-56
Kids add to their Holy Week Calendar: construction paper tomb and stone
Song: "Nothing to Fear" by Audrey Assad & Porter's Gate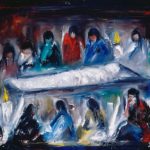 Prayer: God, in the waiting, it would be easy to believe the darkness. In the waiting, we feel unsure of your presence. For this day, we are so grateful to live on this side of Easter, because we know that the story ends in victory. It is that hope which compels us to make it through the uncertainty. Remind us again, God.
In the darkness of Holy Saturday, give us glimpses of light. You are light and love, and so we dare to keep moving through the world in faith. Remind us of your presence, even when we falter. In the name of Jesus who saves us, Amen.
Simple Prayer: God, Thank you for being with us in the middle of hard days. Thank you for keeping us in your love. We are so grateful that we don't face hard things alone. In the name of Jesus who saves us, Amen.
Sunday: Resurrection
"He is not here; he has risen!" Luke 24:6
Scripture Reading: Luke 24:1-12
Kids add to their Holy Week Calendar: folded linen cloth and a picture of an angel
Song: "Father Let Your Kingdom Come" by Urban Doxology, Liz Vice, Latifah Alattas, & The Porter's Gate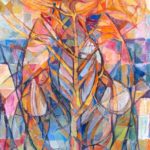 Art: Indian Artist, Jyoti Sahi
https://artandtheology.org/2016/03/30/three-resurrection-paintings-by-indian-artist-jyoti-sahi/
Prayer: God Who Makes Dead Things Come to Life, We awake this morning in a new reality, a new world. We are not rushing to church in our "Easter best", or participating in large family gatherings around our dining room tables. We, instead, are stuck, at home, in what feels like a tomb. Our Easter Sunday is not "normal" or "traditional", and certainly not what we expected. And yet, we know there was nothing normal or traditional about this day thousands of years ago when the stone was rolled away and you were nowhere to be found. You had risen, indeed! We cling today to the truth we've always known to be true, holding onto strings of hope that the same power that rose you from grave exists, even and especially today. That even during a worldwide pandemic, when we cannot always see hope, new life, or broken things being made whole, that you are still on the move and will make all things new. The world will be restored, healing will come, death has been defeated, and the victory is won! Lord, I believe! Help my unbelief! In the mighty name of Jesus, Hallelujah, Amen!
Simple Prayer: Resurrection God, Thank you for Easter. Thank you for being God of love who wins. Thank you that the saddest parts of our world don't win. In this day, we are grateful that you had Easter plans for us. Thank you for making a way for us through Jesus. In Jesus's Name, Amen.