Sunday Dashboard
Find ways to engage with us online
as we worship together each Sunday!
Click on a picture below to link to more info.
ADULTS
For information about Sunday Bible Study groups for adults called Adult Bible
Fellowships, contact Davey Gibson, or click here for a list of our current groups.
Preschool & Children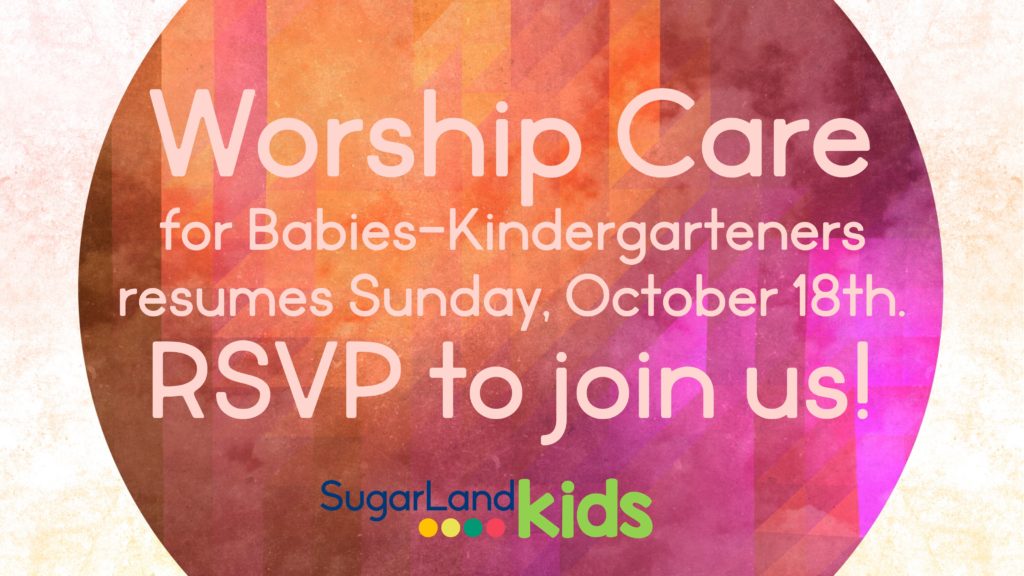 We are excited to be able to provide worship care for children ages 2 months – Kindergarten, beginning Sunday, October 18!
Families will need to register their children's attendance by Friday before each Sunday to secure a spot in a Preschool classroom.
Click here to register children ages 2 months-Kindergarten for Sunday, October 25.
Before you attend, please complete the Family Health Screening Checklist and acknowledge that you have read the SLBC kids COVID Procedures.
Click here for the Sunday School Lesson for October 18.
Summer Zoom Schedule: Hop on zoom once a week to hear a brief devotional from our Sunday School teachers as well as fun and games! Check the Sugar Land Kids Facebook Group for meeting log-in information or contact Amy Sims.  
« Preschoolers: Wednesdays @ 4:30pm
« Kids: Sundays at 4pm
« Club 56: Wednesdays at 6:30pm
« Club 56 Hangout Time: Sundays at 4:56pm
Join us for a Drive Thru Trunk or Treat on Sunday, October 25 from 4-6pm. Help us prepare for the event by donating candy at the Welcome Centers. For more information or to sign up to host a trunk, email Amy Sims. 
Students
Save the date! Camp Eagle is June 1-5, 2021
Zoom Bible Study – Sundays @ 11:15am
Campfire for students in grades 7-12 meets Wednesdays, 7-8pm, SLBC Lawn. Masks & social distancing required.
Contact Jamar Mitchell for more information.
   If you don't have a Bible, click on one of these versions to find one online.
Want more information? Have a prayer request? Click here.